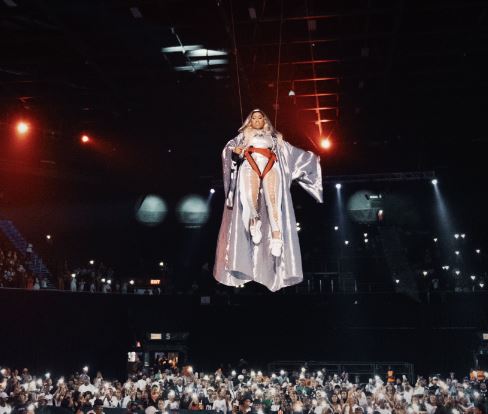 Pabi Cooper aims to Fill Up FNB stadium just like Cassper Nyovest did.
Following a successful show on Sunday night at the Sun Arena, the 22-year-old shutdown trolls who mocked her for not filling up the venue.
However, she proved to have done her best which many applauded.
OGs and superstars in the South African industry supported her by showing up to perform at the event.
Kabza De Small, Cassper Nyovest, A-Reece, and many others lit the atmosphere with electrifying performances.
Despite criticisms, Cooper announces that the 2024 venue will be FNB stadium.
FNB STADIUM!🫵🏼

— Wag 'n Bietjie OUT NOW 🫶🏽 (@cooper_pabi) March 5, 2023
"Next year we're doing it bigger and better, a re fele moya. We're doing it beyond our wildest imagination, breaking the barriers because God got us," she tweeted.
Twitter VS real life 😂💪🏻 Big s/o to everyone who pulled through 😭❤️ kale frostana jooo. Next year re betha stadium, roba kwatisa worse 🥹🔥🫵🏼 pic.twitter.com/g4VemRZIa4

— Wag 'n Bietjie OUT NOW 🫶🏽 (@cooper_pabi) March 5, 2023
❤️🥹 pic.twitter.com/Y952Igkmth

— Wag 'n Bietjie OUT NOW 🫶🏽 (@cooper_pabi) March 5, 2023