Nollywood actress Ruth Kadiri has expressed her support for her colleague Funke Akindele as the gubernatorial elections draw closer.
Funke Akindele has been putting in a lot of effort toward her electoral campaign. She has visited the Celestial Center of Christ before the general election on various occasions, both to pray and campaign.
Ruth Kadiri posted a picture of Funke Akindele on her Instagram account cheering for her and highlighted some qualities stating why she will support her.
She wrote;
"It's election season! And @funkejenifaakindele is my candidate.
Reasons been.
You're hardworking
You're smart
You're tough
You're emotional
Above all you're disciplined.
You dare to tread where others won't fly.
You're a risk taker.
I know you're a filmmaker. I trust you will do a good job
YOU HAVE MY VOTE❤️👏👏👏".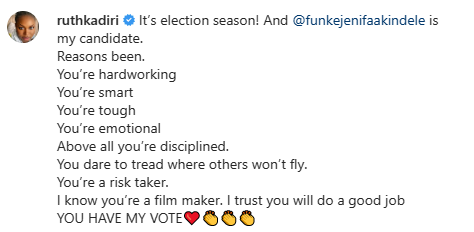 In other news, controversial Nigerian singer, Portable has yet again proven that aside from being a musician, he's a romantic husband.
In a video that's currently making the rounds online, the singer, who's currently in Gambia with his wife, Bewaji, is seen tending to her as she complains of cold.
In a video, Bewaji is seen in a corner complaining about how cold Gambia is, while Portable comforts her and tells her to wear a jacket to keep her warm.
At some point, the Zazu Zeh star told his woman to come get warm with him and tried to cuddle her.
Bewaji, who evidently was enjoying the loving treatment from her husband, was smiling from ear to ear all through.
After getting his wife to come to him, Portable promised to take her to the US and UK, where she would enjoy more of the nice weather.